52 Blocks "Return To The Swamp" Seminar Report
Copyright Pete Kautz 2015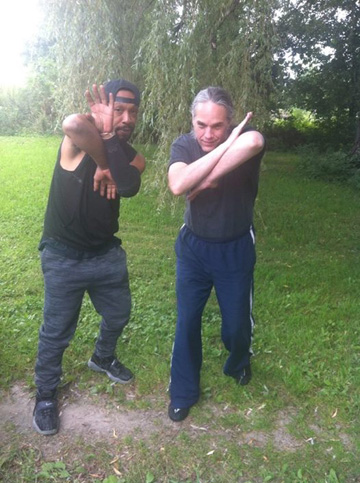 It's Monday morning as I type this. I'm a little tired and sore (especially my rib on the left side where I know I ate an uppercut) but I'm grinning and nodding my head to the beat of the keys.
I'm in a great mood after spending two days doing some top level training, enjoying delicious food and rollicking good times with Mr. Lyte Burly and some of the 52 Blocks crew from NYC!
This last weekend saw his return to the Swamp for another seminar, this time assisted by both Overhand Joel and Kingshon Godisee.
Joel is an easy going heavy hitter who's been with Lyte since the first videos. Kingshon is a dedicated musician who's also trained for many years and won in the Golden Gloves, showing 52's application in the ring.
In addition to doing our own personal training we spent a good bit of time filming, capturing over 26 gigabytes of video in the process!

In the next week I'm going to start going through it and put together a DVD of the seminar. (Note: This DVD is out now, go here to read more or scroll down to order it below)
This will be a great introduction to "how to train" for people who have seen the shapes of the 52 Blocks but don't really understand the applications. We filmed the first 10 blocks with the counter punching in detail and covered a lot of focus mitt drills related to the shoeshine and evasive head movement.
On a mental level, I gave a detailed lecture about the deception of the blocks, why they work to trick the eye like a magician does, and how we can induce small gaps of blindness in our opponent (.1 to .4 of a second) by utilizing them in a special way. I shared all the science behind this as well as practical exercises so you at home can experience these things for yourself just like the class did.
After we finished eating a ton of great chow on Sunday the guys all got to throwing knives and training with sticks. It was super to see everyone working together in the flow, just like they did it all the time. The camaraderie developed through martial arts training was evident.
All too soon we had to wrap things up and the guys had to get back to the city. Hopefully they will be back sooner rather than later and we can pick back up where we left off!
We are considering doing a fighter's / instructor's camp together in Central NY next year. This would be an opportunity to come and learn first hand. If this is something you'd potentially be interested in write and let me know, then as things move along you'll get the first "heads up" about it.
All my very best to you,
Pete Kautz
PS - Like this Article? Sign up for the Training Tips at the top of the page and get an original article like this sent to you by e-mail every week on Tuesday!