American Instinctive Rifle Seminar
The Aerial Target Coaching Clinic (65 Minutes)
Copyright Pete Kautz 2011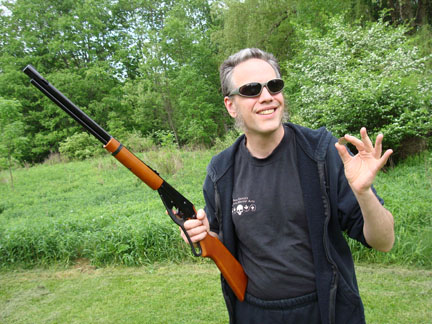 Pete shares details on coin shooting with the class
On Saturday May 21 we held our "End Of The World" 3-hour coaching clinic for the aerial portion of our American Instinctive Rifle Shooting course. This was supposed to be the day of the Rapture according to Harold Camping after all, so we all brought beer and a dish-to-pass!
In all seriousness, we'd planned to get together for weeks before we'd ever heard of Camping and this was simply a good chance for us to spend an afternoon reviewing the basics of how to do American Instinctive Rifle Shooting with an eye towards the teaching progressions for new shooters that will get 'em nailing aerial targets right away.
We also covered many important details on advanced aerials and coin shooting as everyone in attendance could either consistently hit thrown coins or was working on it. Coins are one of my favorite targets and the standard test I have for instinctive shooters is to see how fast they can throw and hit a single coin 101 times, what we call a "Safari".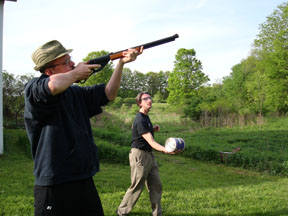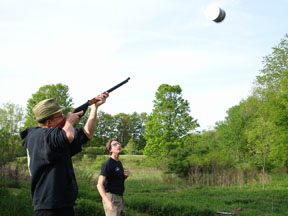 Kurt coaches Mike in the American Instinctive Rifle Shooting Program
As you may remember, on my original American Instinctive Rifle Shooting DVD from 2008 the focus was on practicing by yourself and working through drill progressions first with ground targets and then with aerial targets to develop your own instinctive shooting skills. We only briefly touched on having a partner throw targets for you in a couple of the segments and never got into the coaching aspect.
The reason I showed it that way was because more often than not people will be learning this by themselves in the initial phase. Also, like in any other martial art you will spend countless hours doing solo training if you want to excel. So, I decided to start by covering these core solo training elements.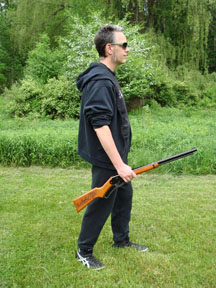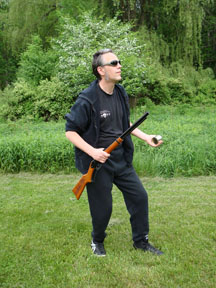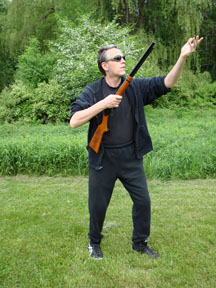 Pete demonstrates throwing a target from the Trail Arms position & in one motion...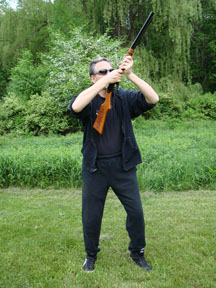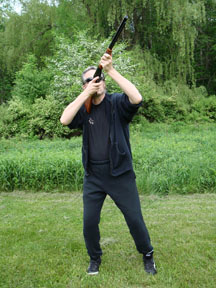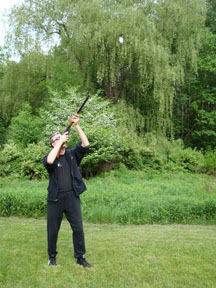 Bringing the rifle up into alignment and taking the shot while it's in the air!
When it comes to teaching a new student, however, there are specific drill progressions you can use as a coach to get them up to speed quickly without them having to learn the whole system. It's the same way that you can teach someone battle-ready "chin jab, axe hand, knee to the fork" combatives quickly and they don't need to know everything that you as a coach know (gained from your 10-20-30-40-50-60 years of training in various arts).
So, my goal for the day was to share some of the QUICK START COACHING METHODS that I want my guys using when they train beginners to do the aerial shooting. We covered both the physical drills as well as the vital coaching strategies that are necessary for accelerated learning.
(And even if you NEVER plan on teaching anyone, by learning these methods you will become better at instinctive fire with the rifle or shotgun!)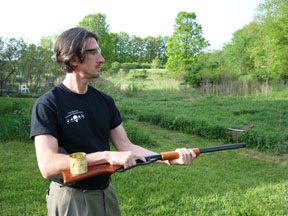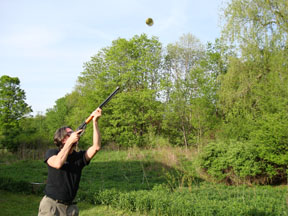 Kurt practices flipping targets off the rifle's stock and hitting 'em in the air!
The finished seminar DVD is 65 minutes of pure instruction on coaching aerial shooting from A to Z. There is no wasted time showing endless footage of people practicing! Instead we cover:
* Proper throwing techniques
* The 6 essential alignments
* The "Illuminati" eye-in-the-pyramid test
* What eye dominance means for instinctive shooters
* The 5 basic shots you need to master
* Vital tips on how to coach for speed learning - what to do and what to avoid
* Throwing your own aerials
* Alternate one and two handed ready positions, like the Trail Arms I show in the photos above
* Coin throwing & Coin shooting tips and tricks
* Shooting while on the move "Duck Hunt"
* Plus some good old-fashioned fun, like what Kurt's doing in the photos above
Practice what we share here safely in your backyard and you'll be ready to tear it up the next time you go bird or small game hunting or anytime there's a small fast moving target that you don't have time to use the sights for!
For you trap, skeet, or sporting clay guys you'll find this is a very enjoyable way to stay sharp when you can't get out to the range. Plus since there's no recoil and no noise you can shoot thousands of rounds in training without beating the hell out of your body and ears...something you'll appreciate if you're a longtime shooter!
If you ever wanted to learn these American shooting skills for yourself, or maybe to one day pass them on to your family or friends, then you want to get this DVD!
All my very best to you,
Pete Kautz
PS - As a special FREE bonus I'll also include a very cool 19th century shooting book that I refer to in the video in e-book format so you can learn more about the history and techniques behind this truly AMERICAN method of shooting!