---
What's New - Timeline - Articles - Techniques - Catalog - Seminars - Links - Contact Us
---
Drawpoint Defensive Knife Craft Seminar
Ashtabula Ohio, March 4-5 2006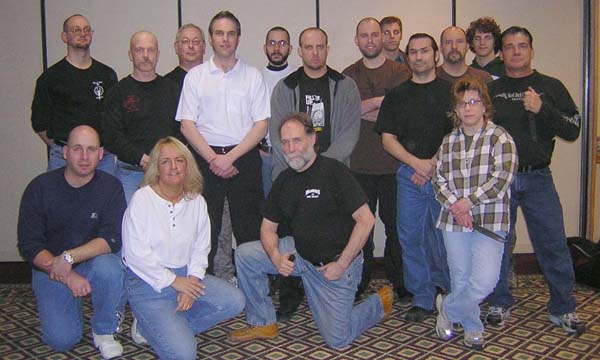 Back Row L-R: Scott, Jim, "Doc", Pete, Matt, Chris, Bill, JD, Mike, Nate, Graham, Jeff
Front Row L-R: Frank, Jane, Mike, Kelsey

Hosted By Jim Miller of SPIKE'S PLACE
Check Out SPIKE'S Review Of The Drawpoint Seminar HERE
Drawpoint is a close-quarters knife methodology formulated by Master at Arms James A. Keating and produced as a three volume series in the late 90's. After having trained intensively in Drawpoint, I presented some of my further work with the material to MAA Keating in 2003 to get his feedback. He was completely supportive and encouraged me to further expand on it, which I have since that time with his blessing.
In 2004 I taught two well-attended and well-received sessions on Drawpoint in Lansing, Michigan at a larger martial arts event and in 2005 I filmed a segment for Modern Knives Issue #3: Modern Knife Concepts detailing a few of the different Level I extensions and variations.

This seminar hosted by my friend Jim Miller of Spike's Place was going to be different, however. This was going to be the first time I would be able to spend two full days and over 10 full hours of active training time with a group on the larger Drawpoint curriculum that is developing, encompassing the full spectrum of empty hand, trapping, Stinger, knife, double knife, knife and pistol, counter knife, and more. "Spike" is a very serious martial artist who uses his skills in the real world as a security professional so I was very excited to be offering this training seminar to his group first!

Ready to Rock With Host Jim Miller
As many longtime Alliance readers know, I am deeply involved in what I like to call the Mind Sciences and the study of learning. This seminar was designed using these principles and the learning acceleration this caused simply amazed everyone in attendance. Again and again people made spontaneous comments to the group about how these skills all seemed to just be developing instantly...just like by magic.
For example, in the first hour of the seminar alone participants learned a series of drill progressions that allowed them to access and deploy their knives in under 1/2 a second while actively defending themselves...
And they did this over and over again in a way they verified to them that clearly it was no accident. The looks on people's faces when they first "got it" and realized that they suddenly could do this was for me as a teacher worth the drive down.
That was in the first hour of the first day...we covered a LOT of ground from there!
Everyone's confidence shot through the roof when when they learned to do high-speed trapping hands with their eyes closed based on pure tactile sensitivity alone. The results? They all found it EASY by that point because of the natural progression of drills that had led them there. Many found it EASIER to do without the sense of sight...just pure feeling and instinctual use of "the Force".
Then there was the double knife skills and the translation to unarmed and counter knife. As you looked across the room it was like something out of The Matrix or a Shaolin movie. Pairs of people moving in swirling deadly seas of steel! This was high speed double knife flow moving from right to left dominance at will, all with the double forward, double reverse, and mixed grips (one forward one reverse).
One unique aspect of training that I brought out just for this seminar was the correct use of the rattan hoop and knife for development of close quarters fighting skills. This is one of those things you hear about but seldom if ever get a chance to see, so I decided to show the hoop and knife equivalent for all of the Drawpoint drills. The hoop is a great option if you don't have a training partner right there to work with and helps act as a governor to promote correct, powerful lines of motion.
By the end of two days, EVERYONE was able to use the knife skills from Drawpoint Levels I-II-III as seen on MAA Keating's tapes and had developed related skills in unarmed striking, trapping, Stinger, double knife, counter knife, and most importantly could put it all together in SPONTANEOUS FLOW.
Mission more than accomplished and an outstanding job done by this very hard working group of folks!
One major reason we were able to go so far and so fast was the GREAT attitudes and prior training of the participants. Everyone stayed on track the whole time and was "game" to try whatever I threw at them. This positive mental attitude (plus all the sweat and bruises) allowed everyone to excel in record time. Even the people with minimal knife experience had solid martial arts credentials.
One thing that made me very happy was the number of people who were taking detailed notes on all of the breaks and continuing to practice elements that were new rather than just sit around. Some very clever guys not only took notes but shot digital photos of themselves doing all the techniques at night while everything was still fresh in their minds. Can you say SMART?
There were also a number of very advanced knife practitioners like Doc Kaye (who you may know from the cutting demo he did in Jim Keating's Legacy of Steel videos) and Scott Homschek (who just released the DVD Improvised Flexible Weapons I just reviewed) there who were able to offer expert help to anyone unsure of how to do a drill or variation. Both of these men are longtime Comtech family and advanced Tang Soo Do experts, and it was great to have them there!
Helping me throughout the seminar in all of the instruction was Lily Gold. She was of invaluable assistance in clearly demonstrating all of the advanced knife work and open hand concepts involved for the two days.

In addition to helping me teach, she also participated in all the drills for two days so we would have an even number of training partners. Lily has appeared in Modern Knives #2 & Modern Knives #3 and works hard behind the scenes to make it all look easy. My deepest thanks go out to her!

Lily had a great time at the seminar and was excited to get to work with everyone, especially the other women attending who were serious blade technicians!

Life Is About Ass Kickin' & Fried Chicken For Lily Gold Of Alliance
Mike Sastre, the crafty knife fighter and kydex wizard behind River City Sheaths also was there and tempted everyone with all manner of cutlery delights accompanied with his unique thermoplastic sheaths. I couldn't resist getting Spyderco Merlin with a kydex sheath but now it looks like I will need to get another because Lily immediately claimed it. Both Mike and Scott generously donated a bunch of extra prizes to be given away along with the Modern Knives issues I was giving out so about half of the folks there walked away with some nice swag to boot!
Jim Miller is planning to be hosting seminars in the Ashtabula, Ohio area on a quarterly basis throughout the year so check out his web site below and get in on all the latest details. He plans to bring in some top knife experts and I think if are reading this seminar review you will be pleased with the lineup!
Visit SPIKE'S PLACE Today

Check Out SPIKE'S Review Of The Drawpoint Seminar HERE

---
What's New - Timeline - Articles - Techniques - Catalog - Seminars - Links - Contact Us
---