---
What's New - Timeline - Articles - Techniques - Catalog - Seminars - Links - Contact Us
---
Lansing Michigan Art of Combat International Seminar
On May 12-15, both Pete Kautz and Mike May of Alliance taught at the Art of Combat 2000 seminar, along with 14 other instructors from around the world, who come share their expertise with 35 students, from various organizations. Several instructors, including Stefan Dieke from Germany, Paul McDonald from Scotland (New Dawn Duelists), and Steven Hand from Australia (Stocatta School of Defense) arrived much earlier in the week to teach classes for the Lansing Community College staff and students. Also on hand were Alliance Brother's in Arms - Col. Dwight McLemore, Mark Rector, and Ken Pfrenger. With dozens on classes to chose from, the students got to learn some fantastic material, from both Western and Eastern styles.
Mike's dynamic classes in BioLogic each morning warmed everyone up, and simultaneously taught them how to destroy their opponent. As the class explored the range of motion control drills they also learned to unbalance and literally take apart their opponent on a structural level (this stuff is ultimate "technique enhancement"). Even with a broken big toe, his Renegade Capoiera left them exuberant for more.
Pete's classes were on Marozzo's unarmed vs. dagger techniques and on Medieval unarmed fist fighting, wrestling, and folk games. From here we explored aspects of stick wrestling, segno (8 angle diagram) power striking with empty hands, falling and standing safely, the Russian "Scramble", and more.
The pictures below were all taken the Monday after the seminar, which was a day for the instructors to "fight among themselves" in good company, and with skilled adversaries. This was a more than great seminar for me, it was like finding more of my family, that I never knew I had before.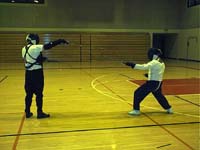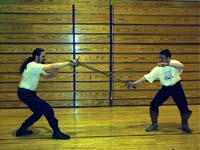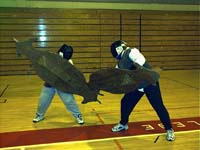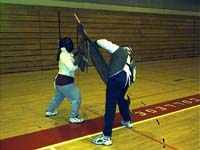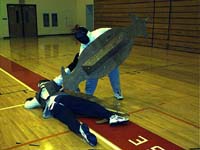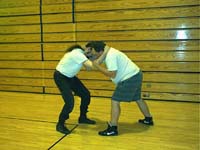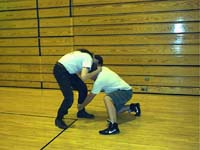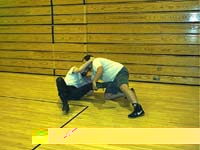 1) Col. Dwight McLemore (School of Two Swords) facing off in the Spanish style against Mark Rector of the Chicago Sword Guild. Dwight also taught a well received introduction to the Bowie knife, giving each student a wooden training bowie to keep and learn the art with. Mark gave a great class on the intricacies of the rapier and dagger, focusing on closing and employing the dagger instead of keeping at range and "sniping".
2) Pete squares off with Paul MacDonald, head of the Dawn Duelists Society in Scotland. Paul taught a variety of classes all week in aspects of Medieval and Renaissance weaponry, kilt wearing, and social drinking. He is staying on in the USA for another 2 weeks, along with the inimitable Steven Hand from Australia, to attend the First SSI Conference in Texas, before heading home to take care of the armory he run.
3) Paul MacDonald showing John Lennox (Art of Combat) some finer points with the longsword. John directs Art of Combat, who hosted the seminar at Lansing Community College. They work mainly in the realm of fight choreography for stage and screen
4-6) Two folks from the New Dawn Duelists Society fight with the German Dueling Shields! Though these exact pictures was posed, they really were just fighting with these things, which require great strength to wield, pretty much full-out! Imagine having to kill a person with a very heavy, spiked, coffe-table or surfboard that just happens to have hooked ends for trapping and hooking! The Deadly consequence of failure is also shown...
7-9) Ken Pfrenger shows an ankle pick from early 1800's collar and elbow wrestling. Ken is a Celtic Stick-Fighting and Wrestling specialist, with a long history in Boxing and Thai Boxing. Ken did classes on the Celtic wrestling styles, showing techniques and training methods form many styles of Celtic (Irish, Scottish, English) Wrestling, as well as their convergence with other methods in American collar and elbow, and later American freestyle (Collegiate) wrestling. On Monday while the others worked on fencing, Ken and I worked on the Bowie Knife and Irish Cudgel, exchanging more information about these two great weapons. We worked with the knife and Cudgel and double cudgel, both of which were sometimes used in these fights.
---
What's New - Timeline - Articles - Techniques - Catalog - Seminars - Links - Contact Us
---