---
What's New - Timeline - Articles - Techniques - Catalog - Seminars - Links - Contact Us
---
Oxford University, England Seminar Report
(Click Here For More Photos / Techniques from this Seminar)
On April 8-9, 2000, the Linacre School of Defense and the Dueling Society hosted a seminar with Mr. Kautz at Oxford University. The participants trained in a mix of material from the Solthurner Fechtbuch, Talhoffer and Dei Liberi, along with many general Western combative concepts like whole-body mobility, footwork drills, falling (done on grass, gravel, and concrete with no injuries!), knife throwing, defense against group attacks, and more. The 20 participants greatly enjoyed the weekend, and there is already talk of doing it again next year!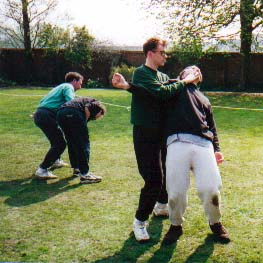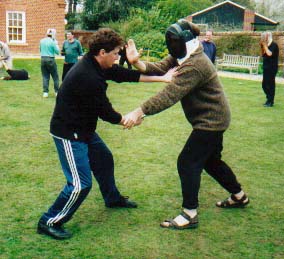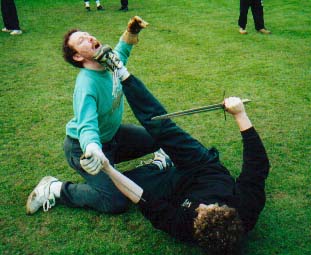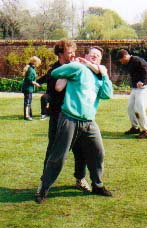 1) Milo and John (Linacre School of Defense) do a head takedown in the foreground, while Mike (Dueling Society) does a twisting armbar in the background. Milo is the head of the Linacre School of Defense, and John is ex Army and also did 3 years in the police - one tough dude! On April 10, they both tested for the rank of Journeyman 2nd Class in the Congress of American Knife Fighters, and passed with flying colors.
2) Tai Chi (left) and Stav (right) practitioners face off in this knife vs. empty hands sparring encounter!
3) Kick from the ground used to break a mutual "in the grips" encounter and free up the defender's dagger!
4) Shoulder lock and choke combination!
---
What's New - Timeline - Articles - Techniques - Catalog - Seminars - Links - Contact Us
---