---
What's New - Timeline - Articles - Techniques - Catalog - Seminars - Links - Contact Us
---
See Past Techniques of the Month!
7 Key Techniques of Bayonet Fencing
Here Ron Loz and I demonstrate some of the basic skills of bayonet fencing. Practice these 7 basic drills and variations, and you will gain a solid foundation in the fundamental movements of the bayonet. Here we are using wooden training rifles made by Christian Darce' of Purpleheart Armories. These are top quality training weapons, good for drilling and sparring. In addition to the heavy winter jackets, for sparring we use fencing masks and lacrosse gloves. A flexi-dagger blade can be mounted to the rifle to add more realism, though often we leave these off for safety. Please see the new Alliance article this month on Bayonet Fencing 1858-1912 for more History of this, the mysterious "4th Form" of Fencing!
Techniques to work include: 4 Fencing Parries, Thrust, Lunge, Lunge-Out, Evade and In-Quartada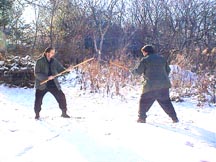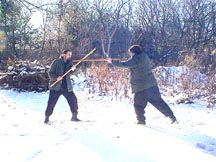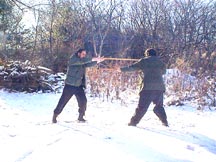 Parry in Tierce and Lunge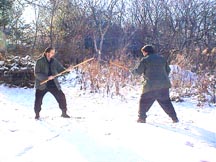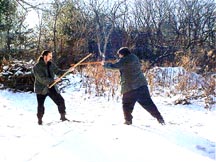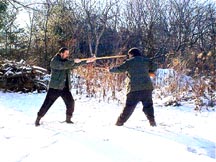 Parry in Carte (with back of barrel, as per McLellan) and Thrust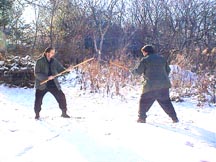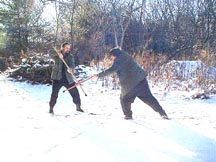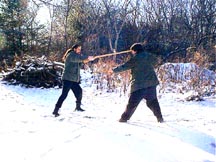 Parry in Seconde and Lunge-Out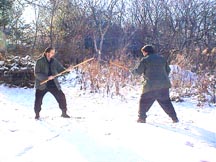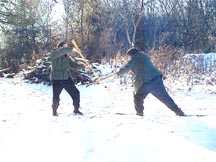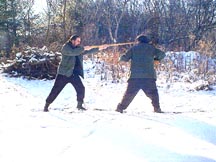 Parry in Prime and Thrust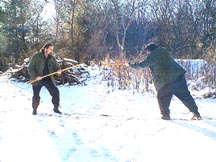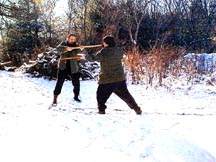 In-Quartada (or Left Volte - rear leg continues around, not pictured) and Thrust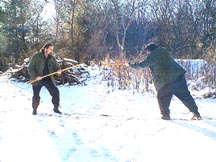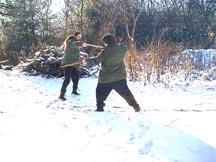 Left Evade and Lunge-Out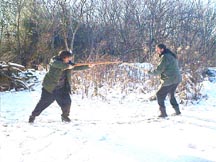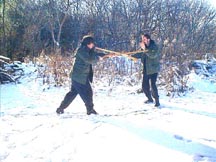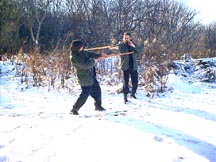 Retreat and Step In-Quartada with Lunge-Out
See Past Techniques of the Month!
---
What's New - Timeline - Articles - Techniques - Catalog - Seminars - Links - Contact Us
---