52 Blocks In The UK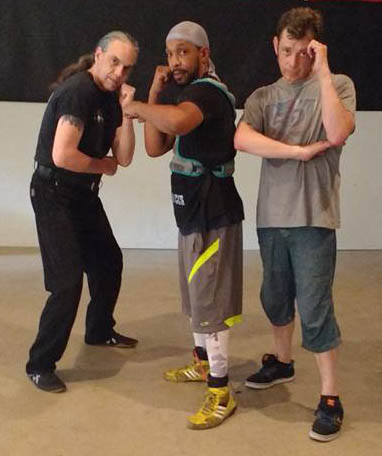 When it comes to 52 Blocks there are very few coaches in the world. One of these men is David Wells aka. Dink the Professor from the UK.
Dink has a strong background in kickboxing and trained winning fighters over the years. You can read all about one of these young champions here.
He's made numerous trips to NYC to train with Lyte Burly and I got to meet him and work together in 2016 so I can tell you first hand he's got the goods and is an excellent instructor.
He even taught me one of the strangest skills I've ever learned in the martial arts - how to conceal not just one but two razor blades in the mouth and then spit them out into your hands. Wild stuff and yes, "for information purposes only"!
(The hardest part? The taste of the metal on your tongue - it's terrible! You have to learn to mentally overcome the urge to swallow or gag.)
For those of you who live in the UK, Dink will be doing a one-day seminar on April 29th in Norwich at Viking Self Defense so if you are even remotely nearby and want to experience 52 Blocks I heartily encourage you to attend. He has a wealth of information to share and is on a mission to do so!
Of if you want to get him to come to your club or set up lessons you can contact him at dink73@hotmail.co.uk and connect with him on Facebook at facebook.com/dink52
All the best,
Pete Kautz
PS - Like this Article? Sign up for the Training Tips at the top of the page and get an original article like this sent to you by e-mail every week on Tuesday!