(Video) Golden Era of Performance Shooting
Today I want to share a 30-minute video of the famous American performance shooting couple of Ad and Plinky Topperwein. Though you probably never have heard of them, they were legends in the day and brought the art from the 19th into the 20th century in a way unlike any other couple in the history of shooting sports.
(This video was produced many years ago by now defunct publisher Paladin Press and also features an inside look into Col. Rex Applegate's incredible weapons collection at the beginning.)
The video opens with a great overview of exhibition shooting in America from the time of Buffalo Bill forward. This sets the stage before they get into talking about various famous shooters and showing the existing footage of each.

Enjoy This Unique Film From The Early 1940's!
(There is a second part to the video on the same channel that features Texas lawman an quick draw expert Bill Jordan, the King of fancy shooting with revolvers Ed McGivern, and Herb Parsons who was one of the last of the factory sponsored exhibition shooters.)
There is some brief history on the video but here are some more details. Adolph "Ad" Topperwein was born in Texas in 1869. As a child he saw Doc Carver who was a very famous performance and competitive shooter. Ad was so amazed at the feats which Doc Carver performed he became determined to learn the secret for himself and spent countless hours practicing.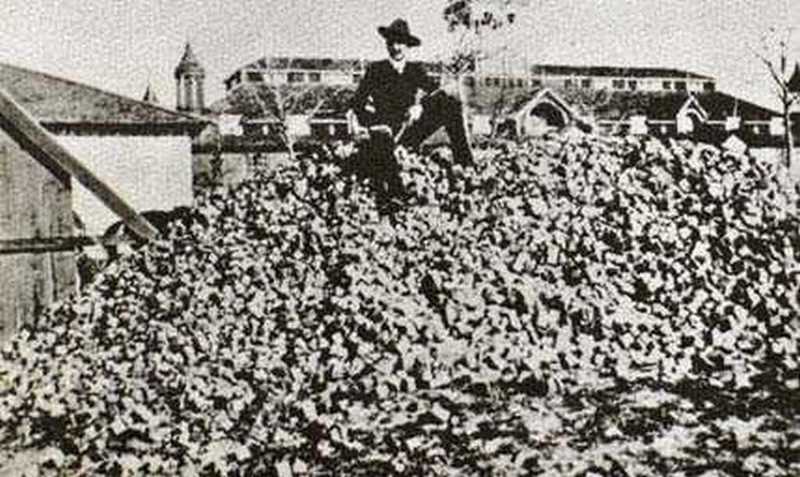 Ad's "Bullet Art" Portrait Of Uncle Sam & Ad Atop A Mountain Of Wooden Blocks
As a young man he was employed by a circus as a exhibition shooter before he decided to try his luck in vaudeville. To make a name for himself in NYC, he took journalists to Coney Island and proceeded to shoot up everything there was to hit in the galleries along the boardwalk.
In 1903 he was hired by Winchester to represent the brand. It was at the Winchester factory where he met a young lady who was working there manufacturing ammunition named Elizabeth. They hit it off and soon were married.
Ad taught her to shoot and gave her the nickname "Plinky" because she would squeal with glee that "I plinked that one, daddy!" She went on to many amazing feats with pistol, rifle, and shotgun including setting a world record in 1916 where she broke 1952 clay pigeons out of 2000.
Of course such a thing should be considered part of a normal day's work in the Topperwein family! Many years earlier, in 1907, Ad shot 10 hours a day for 10 days straight using a .22 rifle and hitting 2 1/2" wooden blocks thrown into the air. Out of an amazing 50,000 blocks he missed only 4...
Ad also liked to do artwork where he would draw characters using a blank sheet of tin and a .22 rifle. He would shoot freehand and trace characters like Uncle Sam and an Indian chief.
Enjoy and all the best,
Pete Kautz
PS - Like this Article? Sign up for the Training Tips at the top of the page and get an original article like this sent to you by e-mail every week on Tuesday!